End The Sexual Exploitation Of Our Youth
Did you know that the average age of entry into prostitution is between 14 and 15 years old, and that almost 80% of prostitutes in Canada started when they were minors?
The sexual exploitation of minors is not tolerated under any circumstances!
That's why the Laval Youth Prevention program is launching a major prevention campaign called Zéro Exploitation and they need your help to spread this message.
MAVN invites you to view and sign.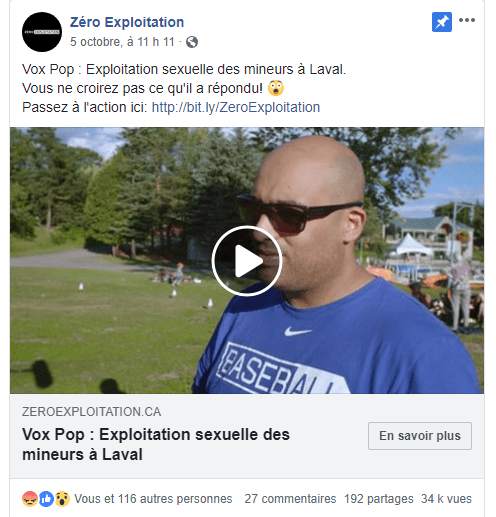 (Screenshot of the Facebook page)
10,000 signatures wish to be collected at the petition. The campaign aims first and foremost to awaken the conscience of Laval citizens in order to reduce the demand for this illegal market on their territory, but also to sensitize the people of EVERYWHERE, because this plague affects all territories. Even if you are not from Laval, it is important that you participate as well.
A vox pop was filmed in order to raise awareness of this issue. You can watch it right here.
MAVN invites you to sign the Citizen's Statement on their website and share the video to make as many people as possible aware !