Open up the lines of communication
MAKING AMENDS TOGETHER
SUPPORT FOR YOUTH IN THE JUSTICE SYSTEM
WHAT HAPPENS WHEN A TEENAGER (12 TO 17) IS ARRESTED?
Teenagers who are arrested by the police find themselves thrust into the justice system, in spite of their young age. Part of our mandate is to find restorative justice solutions to meet the needs of young offenders, their parents and victims following an arrest.
CRIMINAL JUSTICE PROGRAM FOR TEENAGERS
Through the MAVN criminal justice program for teenagers, we embrace an alternative approach that gives young offenders aged 12 to 17 the opportunity to make amends for their actions following an arrest.
They may also take part in various activities to develop their social skills:
Netiquette
Communication toolbox
Addiction
Under the Youth Criminal Justice Act (YCJA), there are three courses of action that can be taken when a teenager commits a crime. These are the cornerstone of our programs.
Extrajudicial measures: As determined by a police officer.
Extrajudicial sanctions: As determined by the provincial director of youth protection, by way of delegated youth authorities (CISSS des Laurentides).
Court sanctions: As determined by a judge.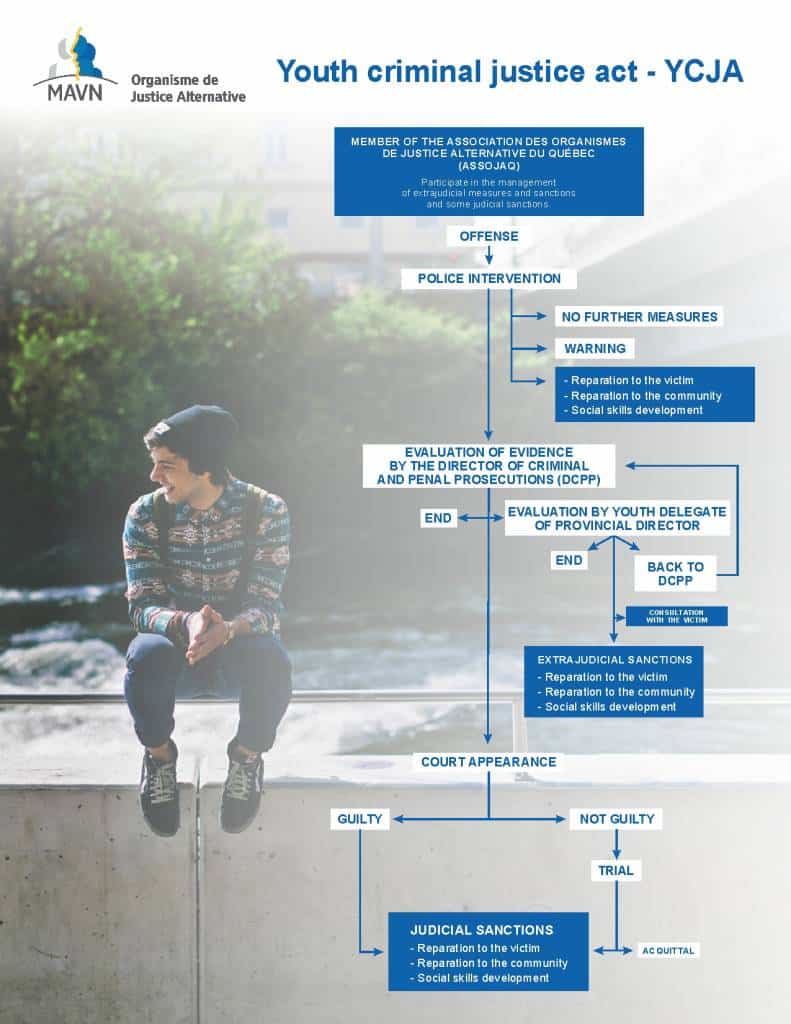 REPARATION AND TEENAGE OFFENDERS
Reparation is the preferred method for addressing and even preventing youth criminal behaviour. It makes young offenders aware of their responsibilities with regard to their actions and underscores the harm that has been inflicted on others as a result.
Through reparation, teenagers can come to understand the consequences of their actions on victims and the community as a whole. They are required to play an active role in the process and in finding ways to make amends.
PREVENTING CRIME, TOGETHER
The criminal legal program for teenagers draws on the skills, resources and goodwill of various justice system stakeholders as well as those affected by youth criminal behaviour, namely community organizations, families, victims, the court system, the young offenders themselves and society as a whole. By working together, we can help improve their living conditions and promote active citizenship and civic engagement in the Laurentians area.
ARE YOU THE VICTIM OF A CRIME COMMITTED BY A YOUNG PERSON?
You are entitled to be informed of any procedures undertaken and any decisions made concerning an offence of which you are a victim. The law also allows for your point of view to be taken into account. You may therefore be contacted by MAVN to gather further information.
Give them the possibility to repare !
Contact