Open up the lines of communication…
GETTING ALONG TOGETHER
UPPORTING INITIATIVES TO PREVENT, MANAGE AND RESOLVE CONFLICTS WITHIN THE COMMUNITY
Free, confidential and easy-to-use service for residents of partner municipalities.
Various types of nuisances can cause neighbourhood arguments and disturb the peace in urban communities:
Interpersonal conflicts
Noise
Disruptive behaviour
Unruly pets
Theft
Vandalism
Bullying and intimidation
Chances are you will encounter one or more of these situations at one time or another. Just remember: conflicts are natural. Trust the experts at MAVN to work with you and find an effective way to restore your quality of life.
We believe that conflicts are a fact of life and can even be catalysts for growth. Most of the time, what stands in the way of a positive outcome are individual reactions, not the conflict itself.
Contact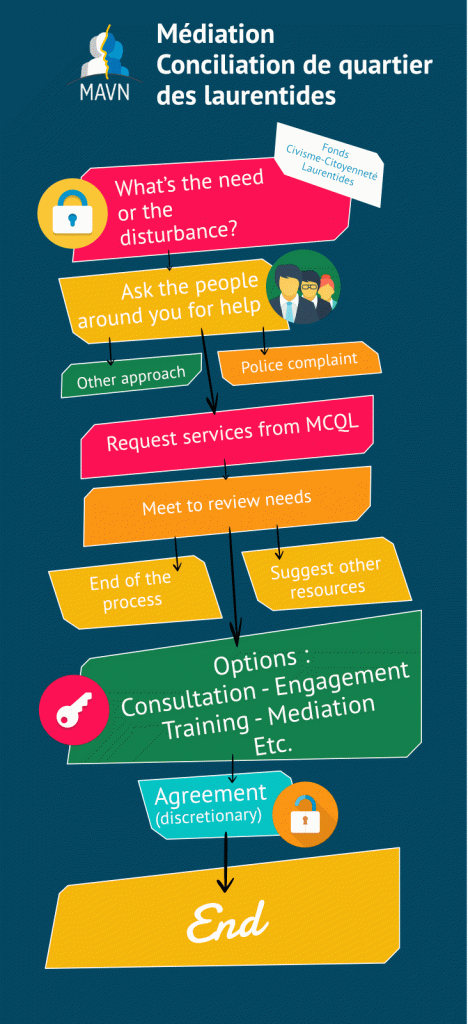 MÉDIATION CONCILIATION DE QUARTIER DES LAURENTIDES
Médiation Conciliation de Quartier des Laurentides (MCQL) offers community dispute resolution services to residents of participating municipalities, namely:
Prévost
Saint-Hippolyte
Saint-Jérôme
Sainte-Sophie
Sainte-Anne-des-Lacs
Saint-Sauveur
Piedmont
Mirabel
Lachute
Sainte-Agathe-des-Monts
COMMUNICATION IS THE KEY
The goal is to stop a conflict from escalating before the courts get involved. Reaching a compromise in these kinds of situations takes cooperation, and often a dash of creativity, to find a solution that everyone can live – and even be happy – with. You'd be surprised at the opportunities that sometimes emerge as a result!
A conciliator/mediator will work with the parties involved to:
Help them see one another's viewpoints
Overcome deadlocks
Find win-win solutions for everyone.
Contact
SUPPORT AND ASSISTANCE
MCQL is dedicated to serving in a support and assistance capacity. Everyone involved in the process must play an active role in finding a suitable resolution to a conflict outside of the traditional court system.
The various parties are met individually to establish a clear understanding of the issues at stake, assess the various needs and facilitate communication. As a result, MCQL can ensure:
Everybody's position is taken into account
The parties involved are aware of what MCQL can do for them
They are interested in playing an active role in the resolution process
They are informed of their rights, available remedies and the resources at their disposal